News
Hello to the Perfect WordPress Starter Theme for Elementor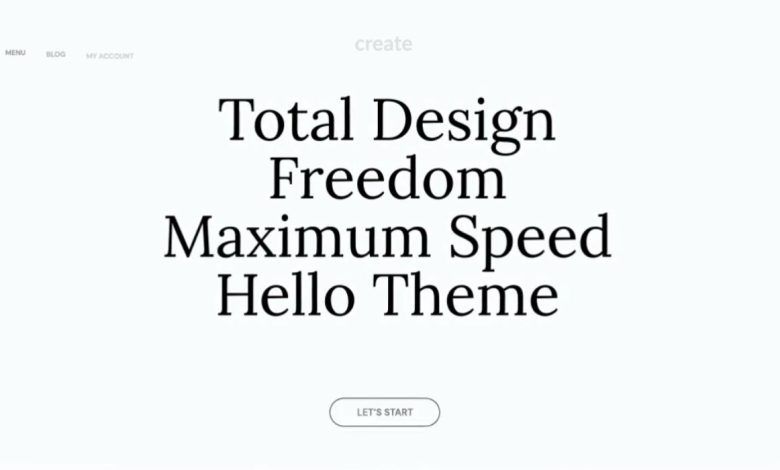 Creating a stunning website has never been easier, thanks to the Hello Theme – a WordPress starter theme tailored specifically for Elementor users.
With a focus on performance, control, and design freedom, Hello Theme is your ideal starting point for crafting exceptional websites.
In this article, we'll dive into what makes Hello Theme the go-to choice for web creators.
Hello Elementor Child Theme Features
Here are the Features of the Hello WordPress Theme For Elementor:
Fits Like a Glove
When it comes to kickstarting your website, you need a theme that's finely tuned for high performance and control.
Hello Theme was crafted by Elementor for Elementor, ensuring it seamlessly integrates with this popular page builder. You'll experience a synergy that simplifies your web development journey.
Total Design Freedom
With Hello Theme, unleash your creativity and design your web pages with powerful visual editing tools. Explore over 100 versatile widgets that allow you to craft unique and captivating layouts. The sky's the limit when it comes to bringing your vision to life.
Lean & Light
Speed matters in the digital world, and Hello Theme understands that. This feather-light theme boasts a clean design, ensuring your WordPress websites run like a well-oiled machine.
It's the perfect canvas for Elementor's drag-and-drop editor, providing a smooth and responsive user experience.
100% Tailored to Elementor
Say goodbye to compatibility issues and plugin clashes. Hello Theme is designed to work in perfect harmony with Elementor, minimizing the need for additional plugins. It streamlines your workflow, making web development a breeze.
100+ Ready-Made Designs
Hello Theme doesn't just stop at being lightweight and flexible; it also offers a treasure trove of ready-made designs. Seamlessly integrate designer-made Website Kits into your projects, creating complete websites in just a few clicks. With a vast library of selections, inspiration is just a click away.
Enjoy total flexibility as you edit colors, fonts, and logos. With Hello Theme, you can even hide header or footer sections you want to exclude, allowing for unique effects like color-changing headers.
WooCommerce Builder
If you're running an online store, Hello Theme empowers you to edit your store with the full power of Elementor. Create better-converting shopping experiences with ease.
is Elementor Child Theme Built for Speed Optimization
Yes, Performance matters and Hello Theme excels in this department. Its lean, no-bloat code ensures rapid loading times, providing a positive user experience.
Responsive Design
Hello, Theme offers a seamless user experience across all devices, from mobile to desktop and tablets.
SEO Friendly
Built for optimal page speed and performance, Hello Theme enhances your search engine ranking, ensuring your website gets noticed.
RTL Ready
Support for right-to-left languages like Arabic and Hebrew is built into the Hello theme, making it accessible to a global audience.
Fully Compatible
Integrate seamlessly with Hello Theme using any of Elementor's 100+ widgets, ensuring your website functions flawlessly.
1+ Million Active Installs
Join the vast community of web creators who trust Hello Theme. With over a million active installations, it's one of the most popular WordPress themes available.
4.5 Star Rating
As recognized by WordPress.org, Hello Theme boasts an impressive 4.5 out of 5-star rating, a testament to its value and quality.
Best of all, Hello Theme is free to download. It loads quickly and starts with minimal styling, allowing you to customize it precisely as you desire. Say goodbye to code conflicts and complexities – Hello Theme is the no-brainer choice for web creators.
In conclusion, if you're seeking the perfect foundation for your Elementor-powered website, look no further than the Hello Theme. It's fast, flexible, and free – the ideal starting point for web creators of all levels. Download Hello Theme today and embark on your journey to crafting exceptional websites with ease.