How To
AMC Plus App Not Working? Try These Easy Fixes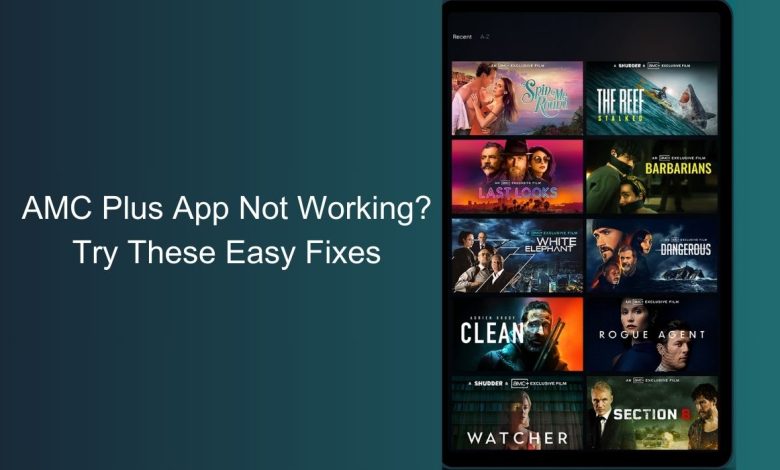 The AMC Plus app is a premium streaming service that provides access to a rich library of TV shows, movies, and live channels from AMC, BBC America, IFC, Sundance TV, and Shudder. However, some users have been encountering issues with the AMC Plus app not working as expected.
Problems reported include the app crashing, freezing, failing to open, becoming unresponsive, or not loading properly.
In this article, we'll talk about the common reasons why the AMC Plus app not be working, and provide easy fixes for each issue.
Why Is My AMC Plus App Not Working Today?
Several factors can contribute to the AMC Plus app not functioning correctly. Here are some common reasons for these issues:
Internet Connection Issues: A stable internet connection is crucial for the proper functioning of the AMC Plus app. A weak or unstable connection can hinder the app's performance.
AMC Plus Server Issues: Technical problems with AMC Plus's servers can lead to issues with the app. Users can check the AMC Plus status page to see if there are any reported outages.
Device Compatibility Issues: While AMC Plus is designed to work on a variety of devices, some older or less common devices may not be compatible with the app.
Corrupted App Data: Corrupted app data on your device can cause functionality problems. Clearing the app's cache can help resolve this issue.
Outdated App Version: Using an outdated version of the AMC Plus app can result in compatibility problems and performance issues. Make sure you have the latest app version installed.
How to Fix "AMC Plus App Not Working" Issue
If you're experiencing problems with the AMC Plus app, here are steps you can take to troubleshoot and resolve the issues:
1. Check AMC Plus App Server Status
Start by checking the server status of the AMC Plus app online. Sometimes, app issues can be attributed to server problems. Ensure the servers are operational.
2. Check Device Compatibility
Verify if your device is compatible with the AMC Plus app. Compatibility issues can cause app malfunctions. If your device is compatible, proceed with the following steps.
3. Clear the Cache of the AMC Plus App
Clearing the app's cache can help remove corrupted data that might be causing issues. To clear the cache:
On Android: Go to Settings > Apps > AMC Plus > Clear Cache.
On iPhone: Clearing app cache is not available on iOS, but you can try reinstalling the app.
4. Update AMC Plus App to the Latest Version
Outdated app versions can lead to compatibility problems. Ensure you have the latest version of the AMC Plus app installed. Check for updates in your device's app store.
5. Disable VPN
If you use a VPN on your device, try disabling it. VPNs can sometimes interfere with app functionality.
6. Switch Internet Connection
Test your internet connection to ensure it's stable. Poor internet connectivity can lead to technical errors. Try connecting to a different network if available.
7. Restart Your Device
Restarting your phone or device can help resolve minor bugs and glitches. Hold the power button and follow the prompts to restart your device.
Conclusion
In conclusion, the AMC Plus app offers a fantastic streaming experience, but like any app, it can encounter issues. By following these troubleshooting steps, you can often resolve the "AMC Plus App Not Working" problem and enjoy uninterrupted streaming on your device. If problems persist, consider reaching out to AMC Plus customer support for additional assistance.