How To
How to Set Up Webmail Hostinger: A Step-by-Step Guide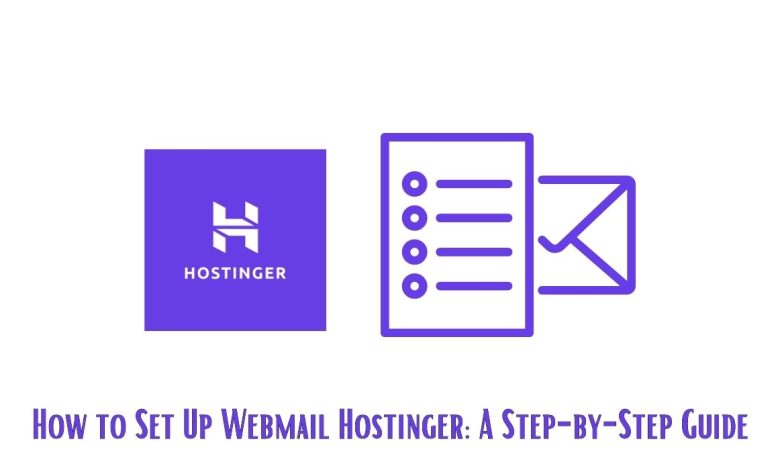 Webmail is a web-based email service that allows you to access your email from any device with an Internet connection. Hostinger offers a free webmail service that is simple and easy to set up.
In this guide, we will walk you through the step-by-step process of setting up your webmail account on Hostinger. Whether you're new to web hosting or a seasoned user, this guide will cover everything you need to know to get your webmail up and running smoothly.
How to Set Up Webmail Hostinger
Here is a Step-by-Step Guide on How to Set Up Webmail Hostinger
1. Go to the Hostinger Website and Sign In to Your Account
To begin the process, visit the official Hostinger website and log in to your account using your credentials.
2. Click on the Webmail Tab
Once logged in, navigate to the "Webmail" tab, which can typically be found in the dashboard or control panel.
3. Click on the Create Account Button
In the webmail section, locate the "Create Account" button and click on it to set up a new webmail account.
4. Enter Your Email Address and Password
A form will appear, prompting you to enter the email address and password for your new webmail account. Ensure you choose a secure password with a mix of uppercase and lowercase letters, numbers, and symbols.
5. Click on the Create Account Button
After filling in the required information, click on the "Create Account" button to finalize the setup.
6. Access Your Webmail Inbox
Congratulations! You've successfully set up your webmail account. You will now be taken to your webmail inbox, where you can start sending and receiving emails.
Additional Tips for Setting up Webmail Hostinger
While the above steps cover the essential setup process, here are some additional tips to enhance your webmail experience on Hostinger:
Change Your Password AnytimeTo maintain security, you can change your webmail account password at any time. Access your webmail settings, and click on the "Change Password" link to update your password.
Add Other Email Addresses to Your Webmail AccountHostinger allows you to manage multiple email addresses from a single webmail account. To add other email addresses, simply navigate to the webmail settings and click on the "Add Account" link.
Access Your Webmail Account from AnywhereOne of the great benefits of webmail is the ability to access your emails from anywhere. As long as you have an internet connection, you can log in to your webmail account by visiting the Hostinger website.
Conclusion
Setting up webmail on Hostinger is a straightforward process that allows you to efficiently manage your emails. By following our step-by-step guide, you can quickly create your webmail account and access it from anywhere. Additionally, take advantage of the provided tips to further enhance your webmail experience. Enjoy seamless email communication and organization with Hostinger webmail.
Frequently Asked Questions (FAQs)
Can I access my webmail from different devices?
Absolutely! Webmail is designed to be accessible from any device with an internet connection. Whether you're using a computer, smartphone, or tablet, simply log in to your Hostinger account, and you can access your webmail from anywhere.
What should I do if I forget my webmail password?
If you forget your webmail password, don't worry; you can easily reset it. Head to the webmail settings and look for the "Change Password" link. Follow the prompts to reset your password and regain access to your account.
Can I set up email forwarding with Hostinger webmail?
Yes, you can set up email forwarding with Hostinger webmail. Email forwarding allows you to receive emails from one address and have them automatically forwarded to another. This can be convenient for managing multiple email addresses.
Is there a storage limit for Hostinger webmail?
Hostinger provides generous storage limits for webmail accounts. The exact limit depends on the hosting plan you've chosen. In general, you should have ample storage for all your email needs.
Can I set up webmail for multiple domains?
Yes, you can set up webmail for multiple domains hosted on your Hostinger account. Each domain can have its webmail account, making it easy to manage emails for different websites or projects.
How secure is Hostinger webmail?
Hostinger takes security seriously and employs various measures to protect your webmail data. Always use strong passwords and enable additional security features like two-factor authentication for added protection.